Uddebo
hälsning från sonia
17 augusti, 2017
Min inte så mysiga hörna som jag blev väldigt fäst vid
Min första gång ever på Tomma Rum är nu över! Jag vill tacka mig själv för att jag tog tåget fast jag inte alls visste vart jag skulle och vad som skulle hända och så vill jag tacka alla jag träffat här dom här tre dagarna! Jag känner mig glad och inspirerad nu när jag lämnar. Min film blev klar och jag har plockat hallon, haft roliga samtal, hängt i skogen, druckit kaffe och varit på punkbar i uddebo. Ses förhoppningsvis nästa år!! /Sonia Vall
Hippiekarnevalen Mjällbofestivalen!
31 juli, 2017
Daniel Torarp säljer kataloger & representerar Tomma Rum utanför ladan.
Johannes Nygren ritar porträtt.
Johan Wide skålar med Daniel Torarp.
Mikael, Embla och Mimmi vinkar och äter.
Oscar de Carmen, Johan Wide och Daniel Torarp konspirerar.
Mikael A. med hunden Angie innan spelningen börjar.
Inne i ladan är det fest.
Mimmi Borselius festfunderar.
Embla Ardal är fin. 
Mymlan, Muffan och jättevalen
31 juli, 2017
Mimmi stiftade närmare bekantskap med hästarna Mymlan och Muffan
Helt plötsligt hade en jätteval uppstått på väveriet!!  Skapad av Johannes Nygren.
Tomma Rum laddar inför Mjällbofestivalen
27 juli, 2017
Deltagare i Tomma Rum kommer att vistas och verka i den årliga festivalen i Uddebo som äger rum på  Mjällbo Gård. https://mjallbo.wordpress.com/ Tomma Rums bidrag till festivalen är porträtt workshop, textil inspiration, poesiläsning, ljudinstallation och tarot läsning.
Väl Mö
tt
Vernissage 14 juli, inför och efter.
18 juli, 2017
Michael Cedlind, chillar.
Elisabet Ericson, illustrerar oss.
Mimmi Borselius, komponerar mönster.
Inez Edström, droppar färg.
Hanna Hernried Forslind, ritar rättigheter.
Oscar de Carmen, dumpstrar bäst.
Hannah Wiker och Kim Ekberg med lilla I.
Öppet hus!
7 juli, 2017
Tomma rum bjuder in till öppet hus lördag den 8:e mellan 14-16. Kika in i väveriet och se vad som pågår! Fika finnes.
Spökar det?
5 juli, 2017
Idag gjorde Julia ett nytt försök att betvinga de (eventuellt onda) andar som leker med oss när vi jobbar i Väveriet. Även det taskigaste av spöken borde inse att en inte jävlas med arbetsmusiken och belysningen hursomhelst. Ännu har vi inte siktat zombien denna vecka. Vi håller er uppdaterade.
Toppbestigning
3 juli, 2017
Tomma rum har liksom traditionen bjuder börjat lugnt med ett par offentliga filmkvällar som främsta fotavtryck i samhället. Deltagarna har varit lätträknade och tempot sävligt. Men nu är sköna juli här och trycket börjar så sakteliga öka. En hel del äventyr har det förstås hunnits med ändå. Bland annat en topptur till Gnipsarnas höjder med utsikt över sjuhäradsbygdens vidsträckta landskap. Och även om andra strävar efter att nå toppen av Himalaya utan syrgas ligger det också en hel del ära i att vara den yngsta som bestigit Gnipsarnas lite mer modesta höjder på 286 meter över havet.
Tomma rum fyller tomma rum med konst
18 juni, 2017
Uddebo, en söndag i Juni. Lupinerna står i full blom, en tunn dimma har trolskt lagt sig över älvens stilla vatten. Väveriets grandiosa salar vittnar vemodigt om fornstora dagar. En ko råmar andaktsfullt mot fullmånens bistra sken. Men kvällens vardaglighet är blott ett falsarium. Imorgon kliver nämligen de första förväntansfulla konstnärerna av bussen. Här väntar det stora äventyret. Hjärtligt välkomna till tomma rum 2017, i Uddebo. Se till att anmäla er, ni som inte redan gjort.
(Uddebo, a Sunday in June. The lupins are in full bloom, a thin mist has trembling settled over the river's still waters. The grandiose halls of the old weaving mill testifies vigorously of it's past. A cow is howling in the full moon's bitter shine. But the everyday life is just a chimera. Tomorrow, the first artists will get off the bus. Here the great adventure awaits them.
Welcome to Tomma Rum 2017, in Uddebo. Make sure to book your visit, if you have not already done so.
When and What Things To Capitalize in Style
15 maj, 2017
Talking about some autobiography examples additionally is a superb way to gain an concept simply the best way to go together with the job. Should you be creating the autobiography just for a special document, it is possible to be just as casual as you desire. With fortune, this post ought to be of use for people who were questioning the best method to write an autobiography of myself. That is definitely the most crucial measure that can shape the last results of your autobiography. Prevent presuming the reader is acquainted with the similar amount of expertness as you're unless naturally you're creating for your own enjoyment. Some may think that finding out just how to write an autobiography is a tough endeavor. Additionally, It might refer to any books of the comparable character. In literature, it shows exaggerating stated characters where as, oversimplifying the the others. By doing this, everyone else thinks you're searching at the following individual and you wind up achieving satisfactory demo in the decision.
Such locations tend to respond easier to you and you may network.
The straightforward element of this type of speech is info, and this furthermore challenges the need for the thorough study about the subject that has been selected to be revealed within the speech. This assessment made me appreciate to study earlier subject knowledge and truly don't presume at all that students have precisely the same degree of information about a special place. An assessment might be formal or informal. A foot, essentially, includes the selected variety of syllables. In an identical approach, a writing or poetry where the writer laments on the affliction of the society in a specific period as a result of poor social in addition to being moralistic conduct, is said to be considered a jeremaid. She has a fantastic control on her language. This type of poems was incredibly well known the XVIII century. Questions are normally questioned in the limit to gauge understanding.
Regarding the creator she's experienced in project management and marketing.
Composing the official letter is frequently considered to be an daunting undertaking by folks. Let's make an effort to utilize this in Writing job 2. Informal Reading Inventories are like running records. Simply make certain your essay WOn't seem simply truthful. You may be equally as imaginative as you prefer to www.buyessayfriend.com be, provided that the article expresses the right information to the audience. You merely have to be cautious and additionally make particular, the anecdotes aren't therefore acquainted with the readers and has to connect to the content and thought of your own composition. Consequently, the nine strategies to start your article. Reader's might choose to determine on something unreal, aside from being concrete in several documents. Occasionally, there might be greater than one subplot in part of fiction which will join along with all the major storyline in period, location or in thematic meaning.
Spending some time sharpening up your research capabilities.
Create in quite a few paragraphs, so it's straightforward for the reader to get. The author should mention their very own tackle within the notice they can be creating. For anyone who is composing the letter as an alternative to inputting, be sure the handwriting is legible and clear. It must be composed on the greatest hand corner of the webpage. This typical theme has to be followed strictly when writing an official notice. By way of example, letters written to your own parents, pals, family, acquaintances, etc.. Don't include unnecessary particulars within your correspondence.
Anmälan öppen!
14 maj, 2017
Anmälan till årets projekt har öppnat här på hemsidan. Anmäl dig snarast för att säkra din plats i Uddebo i sommar! The application for this year's project has opened. Register under "anmälan" to secure your place in Uddebo this summer!
Äntligen Uddebo
26 mars, 2017
Sommaren 2017 åker vi äntligen till
Uddebo.
Den gamla bruksorten som blivit ett återupplivat villasamhälle blev vårt val av plats denna gång. Inte helt opåverkat av de gäng tommarummare som genom åren flyttat dit permanent och bidragit till ortens stadiga tillökning av kreativ energi.
Uddebo har varit på tapeten att besöka i ett flertal omgångar men det rätta förutsättningarna lät vänta på sig tills nu,

då Liv Sonntag och Kalle Magnusson förvärvat ortens fabriksbyggnad Väveriet och gjort det till arbetsplats för ett gäng drivna Uddebo-bor.

Väveriet är ett komplex på 5000 kvadratmeter, utbyggt i olika etapper genom nittonhundratalets senare decennier. Än så länge utnyttjas inte dessa mångfacetterade lokaler till fullo, varvid det var läge att bjuda in Tomma Rum att husera en sommar.
Väl mött!
In the summer of 2017 we are finally going to Uddebo.
The old mill town that has become a revitalized villa community became our choice of residence this time. Not entirely unaffected by the gang of tommarummers that has moved there permanently over the years, contributing to Uddebo's steady increase of creative energy.
Uddebo has been in our sight for a visit for a long time, but the right conditions were not in place until now,

when hardworking
Liv Sonntag och Kalle Magnusson acquired the factory building Väveriet and made it a work place for a bunch of driven Uddebo residents.

A complex

of 5,000 square metres

,

expanded

in stages through the later decades of the twentieth century. So far,

these

multifaceted

premises are not utilized in

full

, whereby

it was timely to invite Tomma Rum to reside for

one summer.

See you there!
Greetings!
29 september, 2014
This is my first post.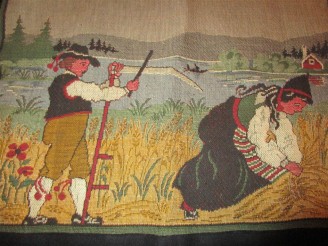 This summer we will reside in Uddebo! In a big old weawing mill with its 5000 square metres and in a yellow culture house, we will meet to create! Uddebo is a small village in Tranemo municipality, in the middle of the forest of Västra Götaland. Uddebo is one of many small abandomed industrial villages in the area, close by the lake Tranemosjön. The village Uddebo with its 258 residents has a very active culture house: Gula Huset, where Tomma Rum also will reside. Further on there is a village sauna, a canoe club, a tillage society and a radiostation broadcasting from the local grocery store.