Uddebo
Tomma rum fyller tomma rum med konst
18 juni, 2017
Uddebo, en söndag i Juni. Lupinerna står i full blom, en tunn dimma har trolskt lagt sig över älvens stilla vatten. Väveriets grandiosa salar vittnar vemodigt om fornstora dagar. En ko råmar andaktsfullt mot fullmånens bistra sken. Men kvällens vardaglighet är blott ett falsarium. Imorgon kliver nämligen de första förväntansfulla konstnärerna av bussen. Här väntar det stora äventyret. Hjärtligt välkomna till tomma rum 2017, i Uddebo. Se till att anmäla er, ni som inte redan gjort.
(Uddebo, a Sunday in June. The lupins are in full bloom, a thin mist has trembling settled over the river's still waters. The grandiose halls of the old weaving mill testifies vigorously of it's past. A cow is howling in the full moon's bitter shine. But the everyday life is just a chimera. Tomorrow, the first artists will get off the bus. Here the great adventure awaits them.
Welcome to Tomma Rum 2017, in Uddebo. Make sure to book your visit, if you have not already done so.
Anmälan öppen!
14 maj, 2017
Anmälan till årets projekt har öppnat här på hemsidan. Anmäl dig snarast för att säkra din plats i Uddebo i sommar! The application for this year's project has opened. Register under "anmälan" to secure your place in Uddebo this summer!
Äntligen Uddebo
26 mars, 2017
Sommaren 2017 åker vi äntligen till
Uddebo.
Den gamla bruksorten som blivit ett återupplivat villasamhälle blev vårt val av plats denna gång. Inte helt opåverkat av de gäng tommarummare som genom åren flyttat dit permanent och bidragit till ortens stadiga tillökning av kreativ energi.
Uddebo har varit på tapeten att besöka i ett flertal omgångar men det rätta förutsättningarna lät vänta på sig tills nu,

då Liv Sonntag och Kalle Magnusson förvärvat ortens fabriksbyggnad Väveriet och gjort det till arbetsplats för ett gäng drivna Uddebo-bor.

Väveriet är ett komplex på 5000 kvadratmeter, utbyggt i olika etapper genom nittonhundratalets senare decennier. Än så länge utnyttjas inte dessa mångfacetterade lokaler till fullo, varvid det var läge att bjuda in Tomma Rum att husera en sommar.
Väl mött!
In the summer of 2017 we are finally going to Uddebo.
The old mill town that has become a revitalized villa community became our choice of residence this time. Not entirely unaffected by the gang of tommarummers that has moved there permanently over the years, contributing to Uddebo's steady increase of creative energy.
Uddebo has been in our sight for a visit for a long time, but the right conditions were not in place until now,

when hardworking
Liv Sonntag och Kalle Magnusson acquired the factory building Väveriet and made it a work place for a bunch of driven Uddebo residents.

A complex

of 5,000 square metres

,

expanded

in stages through the later decades of the twentieth century. So far,

these

multifaceted

premises are not utilized in

full

, whereby

it was timely to invite Tomma Rum to reside for

one summer.

See you there!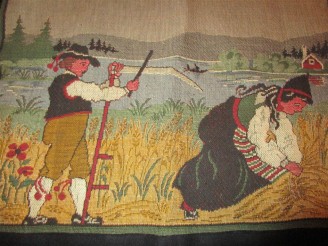 This summer we will reside in Uddebo! In a big old weawing mill with its 5000 square metres and in a yellow culture house, we will meet to create! Uddebo is a small village in Tranemo municipality, in the middle of the forest of Västra Götaland. Uddebo is one of many small abandomed industrial villages in the area, close by the lake Tranemosjön. The village Uddebo with its 258 residents has a very active culture house: Gula Huset, where Tomma Rum also will reside. Further on there is a village sauna, a canoe club, a tillage society and a radiostation broadcasting from the local grocery store. More information to come, but at least now you know where to point your compasses!