Västervik
Anmälan öppen!/Registration open!
19 april, 2018
Sommarens stora höjdpunkt och begivenhet närmar sig! Tomma rum intar i år det vackra före detta varmbadhuset i Västervik och anmälan här på hemsidan är nu öppen för dig som vill delta. Platserna under de mest hektiska veckorna brukar bokas upp ganska snabbt så det är bäst att passa på!
Boka här!
The highlight of the summer is approaching quickly! This year, Tomma rum will inhabit the beautiful former bath house in Västervik, and the registration is now open here on the website. The most popular weeks usually fill up pretty fast so don't hesitate!
Register here!
Tomma Rum på årsmöte
18 mars, 2018
Förra helgen höll vi årsmötet hemma hos Studio Mossutställningar, som vi vill tacka för lånet av lokal! Platsgruppen presenterade kandidat-orter för sommarens projekt. Vi fikade gott, pratade framtidplaner, valde ny styrelse, ny platsgrupp och förberedelsegrupp för sommarens projekt. Styrelsen för Tommar Rum 2018 kommer bestå av: Ordförande: Angelica Ruffier Holmqvist Sekreterare: Johannes Hagman Kassör: Mikael Lindahl Ledamöter: Sarah Tjäder, Daniel Torarp och Kim Ekeberg Suppleanter: Hanna Wikström och Olga Gniady Valberedning: Mimmi Borselius och Jennie Öberg. Revisor: Henrik Öbrink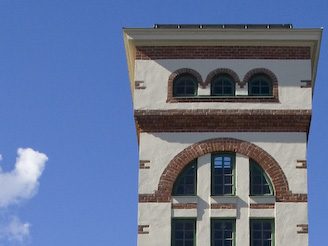 Västervik is one of the largest municipalities in southern Sweden, and also a historically significant harbor city. The urban area has 21,314 inhabitants. The Archipelago atmosphere will hit tyou as soon as you leave the train station. Especially during the summer months, the city is a popular tourist destination, making this a somewhat odd bird in Tomma Rum's repertoire. At the heart of Småland 's coastline, we find the city's architectural jewelery, a neoclassical former hot bath house. This is our work and exhibition space! Sleeping and brushing our teeth we do in Centrumgården's safe halls. Visfestivalen - The singer-songwrriter festival is, of course, the city's pride, but Lysingsbadet, one of Sweden's largest holiday resorts, delivers a never-ending stream of summer lovers. Good falafel is found in the big square, and in Church St. Petris no less than two orgles. Ellen Key is also buried here. With the archipelago and the traditional parishes around the knot, it is easy to find artistic inspiration once again. The bath house's central location along the vibrant seafront makes for a well-visited edition of Tomma Rum - with great opportunities for activities and events.